Inquiry form
For those who were interested in our business, those who would like to make a quote, others regarding job offerings, etc. For any other questions, please contact us from the following email form or contact us by phone.
Please fill in the form below and click the "Confirmation screen" button.
We will strictly adhere to the privacy policy regarding the handling of the entered personal information.
Dependent characters such as circled numbers, such as, Co., Ltd. and ①, cause garbled characters, so please do not use them.
※Items marked "necessary" are mandatory.
Privacy policy
Declaration of privacy policy
TSUBAME LOGIS Co., Ltd. (hereinafter referred to as "the Company") is working to protect the privacy of customers who use the website operated by the Company.
In order for us to provide services, we must gather information about customers (hereinafter referred to as "personal information"), but in order to protect the privacy of the information and keep secrecy we taking measures.
We will not do anything to buy, sell, exchange or otherwise misuse personal information.
By using this website and giving personal information, you are deemed to accept and approve the handling of personal information explained in this privacy policy.
Purpose of collecting personal information
Personal information gathered from customers is used for the following purposes.
To use in services provided by the Company to customers.
In order to accurately notify information such as services and new products suitable for customers.
In order to contact customers as necessary.
Disclosure of personal information
In the following cases, we will be able to disclose your personal information without your prior agreement.
Where required by police, court, or other government agency by subpoena, warrant, order etc..
When it is necessary for the protection of human life, body or property, and it is difficult to obtain customer's consent.
Management of personal information
We carefully manage customer's personal information, and pay utmost attention to prevent leakage, loss, and damage.
In order to provide better service to our customers, we have outsourced part of the handling of personal information to external consignees who are deemed to be handling personal information appropriately. The subcontractor uses personal information to the extent necessary for carrying out consignment work.
In this case, we will conclude an appropriate contract with the entrusted party concerning the handling of personal information and request proper management.
managing & educating employees
Regarding the importance of protecting personal information, appropriate education is conducted on a timely or periodic basis.
In addition, when we manage personal information, we will strive to prevent leakage to the outside while maintaining management personnel in proper management.
Furthermore, we will endeavor to protect customers' personal information by implementing appropriate and reasonable safety measures against danger such as unauthorized access from outside or tampering.
As for accessing databases etc. related to personal information, we restrict what we have access rights and strictly manage so that they will not be illegally used even inside the company.
Link reference
Regarding the use of personal information at the link reference, it is not based on the concept of our privacy, but according to the way of thinking of the privacy of the linked site itself.
Revision of privacy policy
We will review and improve the contents of each of the above items as necessary in order to improve the services offered to customers. If you change this book, this change will be posted on this website.
By posting the latest privacy statement on the site, you can always learn about collecting privacy information and using it. Please check on a regular basis.
Also, if you use personal information in a different way than what was mentioned at the time the information was originally collected, we will post it on this website and will contact you.
Customers have the option of deciding whether or not this website may use personal information in a different way from the beginning.
Company
TSUBAME LOGIS Corporation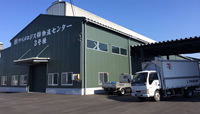 Head office

353 Ozeki Tsubame-city Niigata prefecture
TEL/+81-256-63-4663

Yoshida garage

10-15 Konosu Yoshida Tsubame-city Niigata prefecture

Niigata inspection and distribution center

1309-1 Ozeki Tsubame-city Niigata prefecture