Greeting
August 1962 (Showa 37) Since its establishment, we have built up the power to see the next generation, innovative strategy, state-of-the-art logistics, and have increased corporate value. Since the beginning of the 21st century, we began to focus on globalization and established a third party inspection business in China as a partner company in China to enter the trend of Asian logistics.
---
In 2008, in order to respond to the concerns of improving the quality of imported products by local prefectural and local import companies, and to further improve the added value of logistics in Asia and Japan, let the signboard of the Niigata inspection and distribution center be raised we had you. Our center is able to assist you with a system that allows you to consistently leave from the inspection of Chinese products to import / storage · Japan domestic inspection · transportation ·disqualified product processing, from the Chinese factory to the Japanese domestic end users .
---
Along with the establishment of the inspection center, we received favorable reviews that import companies led to cost reductions, and we received praise from each media. We are proud to be able to meet the needs of society while being a small enterprise.
Along with the increase in demand for international logistics, we will also approve the customs clearance business and aim to further improve the service to our customers. Our company values hundreds of years from now, cherish your heart of curiosity, ambition and gratitude, and we will make a breakthrough every second every minute.
---
CEO Yoshihiro Yamada
Management philosophy
As Mr. P. F. Drucker says, the important things are not thinking what to do to others (society and all the people all over the world), we think about what we can contribute day by day, we will move on to implementation.
---
Based on the customer first principle, we will make every effort every day to educate employees, improve internal employees, improve transportation quality, and improve inspection technology.
---
In order to respond to the trend of the changing age every day, we will develop information gathering and plan execution power to the full and build a relationship of trust with customers.
Company Profile
Company name
TSUBAME LOGIS Corporation
CEO
Yoshihiro Yamada
Head office:353 Ozeki Tsubame-city Niigata prefecture

Yoshida garage:10-15 Konosu Yoshida Tsubame-city Niigata prefecture

Niigata inspection and distribution center:1309-1 Ozeki Tsubame-city Niigata prefecture

TEL
+81-256-63-4663
FAX
+81-256-63-6131
URL
http://l-tsubame.com
Business objective
General freight car transportation industry

Car transportation handling business

Light cargo transportation industry

Industrial waste collection and transport industry

Warehousing industry

Customs brokerage

Capital
11 million yen
Date of establishment
August 7.1962
Employee
125 (including part time job 40)
Head office and headquarters office

Site area

8850.88m2

Steel warehouse

696.35m2

Miscellaneous goods warehouse

381.83m2

First business warehouse

686.40m2

Laden garage

785.34m2

Unladed garage

2557.40m2

Yoshida garage

Site area

1206.42m2

Laden garage

201.24m2

Uncovered warehouse

785.99m2

Niigata inspection and distribution center

Site area

1437.84m2

Laden garage

1021.39m2

2nd 3rd Warehouse

Site area

6303m2

Laden garage

3003m2

4th Warehouse

Site area

5293.88m2

Laden garage

3266.54m2

TsubameYoshida Warehouse

Site area

1885m2

Laden garage

677m2
Access
Coming by car
Get off Hokuriku Expressway Sanjyotsubame IC and take Route 289 toward Yahiko Village
Useing by train
Take the train from Tsubame Sanjo station on the Joetsu Shinkansen(Bullet train) line to Yahiko line Yoshida line to Get off at Nishitsubame station
About BCP
We have set up BCP in order to gain customers' peace of mind and confidence, and to protect the area and employment. Business Continuity Plan (BCP)
BCP:Business Continuity Plan
We will restart important functions within target recovery time if business activities are interrupted in the event of disaster interruption, the outflow of customer transactions due to business interruption to competitors, market share Management strategy to protect enterprises from declines, corporate valuation declines, etc. Maintenance of backup system, securing of backup office, speeding up confirmation of safety, securing personnel, and substituting production facilities (Business Continuity Plan: BCP). The plan referred to here is not merely a meaning of the plan, but it is used in nuance including management in general. When emphasizing management, it may be BCM (Business Continuity Management) in some cases.
It's not about what to do after the disaster occurred, how we can act when a disaster occurs.

We can continue our business such as relief activities, continuing employment, securing distribution.

In case of emergency, we have set up BCP to minimize damage to customers and minimize damage of our company.
History
July 1962
From the Niigata Land Transport Bureau of the Ministry of Transportation, the General Small Freight Car Transportation Business is licensed by New Land Own Currency No. 450.
August 1962
Established Tsubame Steel Transportation Co., Ltd. at tsubame,tsubame city. Completion of registration.
October 1964
From the Niigata Land Transport Bureau of the Ministry of Transportation, the general area freight car transportation business is licensed according to the new land No. 653.
April 1965
tsubame Tsubame city narrowed, the headquarters and headquarters office moved to Higashioota tsubame city.
June 1968
Yoshida Sales Office is approved at Yoshida-cho, Nishikanbara-gun, Niigata prefecture.
by Niigata Land Transport Bureau
Authorization No. 417
October 1970
The headquarters and headquarters office Higashioda in Tsubame City have narrowed and moved to Tsubame in tsubame city
February 1976
From the Niigata Land Transport Bureau of the Ministry of Transportation, the new cargo No. 36 will be approved for car transportation handling business, car transportation vicarious business, car transportation use business. Registration No. 1 for 1976.
May 1977
Yoshida Sales Office in Yoshida-cho, Nishikanobara-gun narrowed, relocating the sales office to Kounosu in the same town.
February 1979
We have acquired the land at oaza Shimo Nakano Yoshida-cho, Nishikanbara-gun.
April 1980
Set up a private gas station at the same site (G 3 kl K 25.7 kl) Established
the prefectural maintenance company Co., Ltd. as an affiliated company in the same lot number, and started the vehicle maintenance and sales business.
September 1983
From the Niigata Land Transport Bureau of the Ministry of Transport, it is approved to set up the courier service and the flight service charge according to Niigata Land Transport Bureau Ownership No. 113 and No. 114.
Governor Niigata will receive a notification of light vehicle (cargo) transportation business management report by Niigata Land Transport Bureau No. 3326.
September 1985
The headquarters and headquarters office of Tsubame tsubame city are narrowed and relocated to Ozeki in same city.
September 1988
Introduce a shearing machine of steel material to the area. above, and start cutting the thick steel sheet.
March 1992
We established a logistics department to improve logistics efficiency.
May 1996
By Shinunkou No. 34, warehousing industry is approved.
February 1997
Niigata sales office is approved by Shinkai Transportation No. 3384 at Toyosaka city , and this sales office is opened.
May 1999
Governor Niigata, the mayor of Niigata city authorized special controlled industrial waste, industrial waste collection and transport industry, and will start the business.
April 2000
A Managing Director koichi Yamada Inaugurated CEO.
April 2003
Receive permission from the surrounding area (tsubame · Sanjo · Yahiko) to collect and transport municipal waste (waste home appliance).
October 2004
General worker dispatch business is permitted.
January 2005
Got certified as a safety-certified business establishment.
May 2005
Receive Green Management Certification.
June 2006
We have acquired the land at adjacent to the head office
February 2007
Change from company name tsubame Steel Transportation Co., Ltd. to TSUBAME LOGIS Corporation.
August 2008
We have acquired the land at Tsubame-shi Ozeki
December 2008
Establish Niigata inspection and distribution center on the same land
Receive business warehouse license. Hokushin kobutsu No. 57
May 2010
Corporate Planning Office yoshihiro Yamada Inaugurated Director
October 2010
started accepting seconded employees Daido Steel Co., Ltd.
March 2012
We expanded our second center and Entered the Department of assembly processing.
May 2016
A Director yoshihiro Yamada Inaugurated Managing Director
May 2016
We have acquired the land at Tsubame City
June 2016
Establish second and third distribution centers on the same land
Head office sales office refurbished
December 2016
December 2016 Started customs clearance customs clearance business
March 2017
Add 1 type of ocean shipping
Company
TSUBAME LOGIS Corporation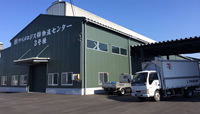 Head office

353 Ozeki Tsubame-city Niigata prefecture
TEL/+81-256-63-4663

Yoshida garage

10-15 Konosu Yoshida Tsubame-city Niigata prefecture

Niigata inspection and distribution center

1309-1 Ozeki Tsubame-city Niigata prefecture