We can propose warehousing, customs clearance and inspection from transportation consistently, to reduce logistics costs. Also, please leave the sales route for overseas, procedures with buyers.

Consistent logistics from overseas to domestic
As a comprehensive logistics business, we will propose to meet various needs, including cost reduction, based on know-how that we have cultivated over many years.
News
Company
TSUBAME LOGIS Corporation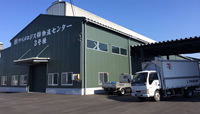 Head office

353 Ozeki Tsubame-city Niigata prefecture
TEL/+81-256-63-4663

Yoshida garage

10-15 Konosu Yoshida Tsubame-city Niigata prefecture
+81-256-92-4663

Niigata inspection and distribution center

1310 Ozeki Tsubame-city Niigata prefecture
+81-256-63-7860

Higashikou garage

2F 7-5989-12 higashikou, Seiro-machi,Kitakanbaragun
Niigata prefecture
TEL/+81-252-50-0268

Osaka garage

2-8-4 Nankoukita, Suminoe-ku, Osaka-city, Osaka